Receiving Financial Aid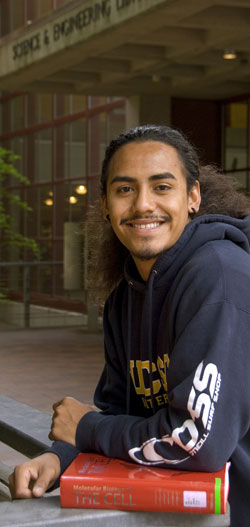 Accepting Aid
Students are notified via e-mail when their aid offer is posted to MyUCSC.  Students may accept or decline the aid that is offered.  Offered loans may be reduced or declined. Follow Important Next Steps to ensure receiving your financial aid.

Financial aid automatically pays student charges such as tuition, fees, and on-campus housing. For students enrolled in classes, most accepted aid will automatically be credited to student bills a few days before the start of each quarter and will reduce the amount owed. Exceptions include work-study which must be earned and scholarships from other agencies for which funds have not been received.

After accepting your financial aid offer, use the Payment Estimator to estimate how much you will owe for the term after your aid credits your student account.

Receiving Aid
Even if your aid has not posted to your bill by the billing deadline, you will not be charged late fees in as long as your aid disburses on time and covers your entire bill. If your aid does not cover your total bill, subtract your pending/anticipated aid (aid you have accepted for the quarter) from the amount you owe and pay the difference by the bill due date. If your bill will not be paid on time for any reason, contact housing and/or the student business services office for payment options.


Students must be enrolled in classes (at least 6 units) to receive financial aid and must have completed loan promissory notes and entrance counseling requirements. See Important Next Steps. Financial aid is posted to student bills on the schedule below.
Dates Financial Aid will Credit Student Bills


 




2014-15 Academic Year



Fall

 

September 24, 2014
Winter

December 27, 2014

 

Spring

 

March 25, 2015

 

Summer Session 1

 

June 17, 2015


Summer Session 2

 

July 28, 2015
Dates for Financial Aid Refunds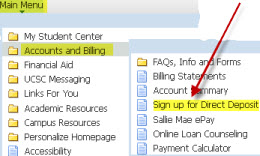 Excess aid funds are refunded via check or Direct Deposit to your bank account during the first week of each quarter. Direct deposit is the fastest way to receive your funds. 
If you do not sign up for direct deposit, a check will be mailed to the "mailing address" you provide in MyUCSC. Checks are mailed once per week. Update your mailing address each time you move. 

See
Also