Estimate Your Bill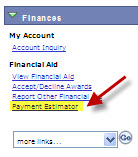 To access the Payment Estimator, log into MyUCSC, click "My Student Center" in the MyUCSC Menu, and then "Payment Estimator" in the Financial Aid section of the page. The Payment Estimator is a tool to help estimate how much you will owe for the next quarter before you receive a bill.  The estimator:
Calculates tuition and fee charges based on your current residency status.
If you are living on campus, it estimates on-campus housing charges - you may update this estimate.
It assumes you will purchase campus health insurance but allows you to opt out if you already have a plan.
The estimator DOES NOT include other charges that may appear on your bill such as course fees, printing or pharmacy charges. 
The estimator subtracts the aid you accepted from your charges to estimate how much you will owe for the term. If you have not accepted some of the financial aid you were offered, this aid is excluded in the calculation.
The Estimator may be used for fall, winter and spring quarters but not for Summer Session.  The Estimator is activated for fall term at the same time enrollment opens for the term. The estimator is activated for winter and spring terms after the prior term bill due date.