Work-Study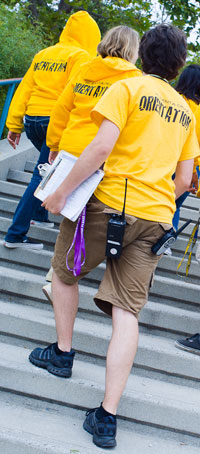 Federal Work-Study
Federal Work-Study is a need-based program. A Work-Study option will be offered as financial aid to eligible students who submit a FAFSA application. Students must apply for part-time jobs and may earn up to the amount of the Work-Study award they accept. There is no employment guarantee - jobs are competitive. Developing a professional resume and beginning the job search early in the fall is a good idea. Staff at the Career Center are available to assist with resume writing and job search techniques.
The Career Success website provides all the information needed to search for a job and get hired. Apply for both Work-Study and non-Work-Study jobs to maximize your chances of finding employment.
Students are not required to earn and use the Work-Study they are offered, and there is no penalty if it is not used. Work-Study does not directly apply to the bill; instead, the student earns a paycheck to use toward educational expenses. Paychecks are issued on a bi-weekly basis.
Students must stop working if they take a leave of absence or withdraw from UC Santa Cruz.
Learning Aligned Employment Program (LAEP)
Students may be eligible to apply for on-campus, paid research opportunities through the Leaning-Aligned Employment Program (LAEP). The Learning Aligned Employment Program (LAEP) is a nine-year, state-funded, work-based learning program similar to federal work-study. Eligible students come from underrepresented backgrounds and meet the following criteria: 
Maintain at least half-time academic enrollment

Maintain satisfactory academic progress in their undergraduate degree program

Have demonstrated financial need (determined by Financial Aid & Scholarships Office)

Classified as a California resident

Are eligible to work in the United States.
Students may access and apply to current LAEP research jobs in Handshake here. For more information, Contact the UCSC Career Success. 
Institutional Work-Study
Students who have an active work authorization (not expired) and who have submitted a CA Dream Application are eligible to participate in UCSC Institutional Work-Study. This program provides an opportunity to apply for part-time work-study jobs on-campus. Positions are competitive, and students are not guaranteed to obtain a work-study job.
If hired, students may earn wages up to the amount of their UCSC Institutional Work-Study award. Visit the UCSC Career Center, located in the Baytree Bookstore Building, for information on jobs on campus. You can also visit their website at http://careers.ucsc.edu/index.html 
See
Also